+VIDEO British adventurer James Ketchell is to attempt to be the first pilot to fly an open cockpit gyrocopter solo around the world.
Ketchell, a UK Scouting Ambassador, is already the world's first and only person to row across the Atlantic Ocean (2010), climb Everest (2011) and cycle 18,000 miles (2013) around the world. He now aims to add the 22,858.729nm flight.
Ketchell, 37, will stop at schools around the world to give motivational talks and raise funds for two children's charities.
"I want to help children understand, however difficult it might get, that there is always hope and a route to achieving your goals," said James. "As a teenager, I struggled with depression and had zero confidence in myself.
"I was too insecure to go to the school prom. On my 18th birthday I stayed home alone. I left school without any qualifications, had no direction and was fired from five jobs.
"For five years, I had no motivation and I felt pathetic.
"One day I noticed a boy in the gym was getting attention for how many weights he could lift. I started going to working out and over time, I transformed the way I looked and started to gain confidence. I was committed to going to the gym every day."
In 2007, James was seriously injured in a motorcycle accident that left him with broken legs as well as a broken and dislocated ankle. He was told his physically active lifestyle could be over. He refused to give up.
In 2014, James became the first person to row across the Atlantic Ocean, successfully climb to the top of Mount Everest and cycle 18,000 miles around the world – the so-called Ultimate Triathlon.
"My plan is to visit a school in every country I fly across, sharing stories of fun and adventure," continued James.
"I'm delighted to have the opportunity to support two amazing charities as part of this project. Their focus on helping young people to thrive and overcome huge challenges is very close to my heart."
James starts his world record attempt on 31 March from Popham Airfield in Hampshire. He aims to be the first person to circumnavigate the globe in his MAGNI M16C open cockpit tandem gyrocopter, with less than 300 hours as Pilot in Command.
He will face extreme weather conditions, flying through temperatures ranging from +40C to -20C and will have to cross open water for up to six hours at a time on his journey through Europe to Egypt, Saudi Arabia, Dubai, India, Thailand, Japan.
From Russia he will cross the Bering Straits to Alaska. After travelling across Canada and the USA he will traverse the Atlantic Ocean, landing in Greenland then Iceland and the Danish Faroe Islands before arriving back ton UK soil, Kirkwall in Scotland. He'll then fly south and back to his starting point, Popham Airfield.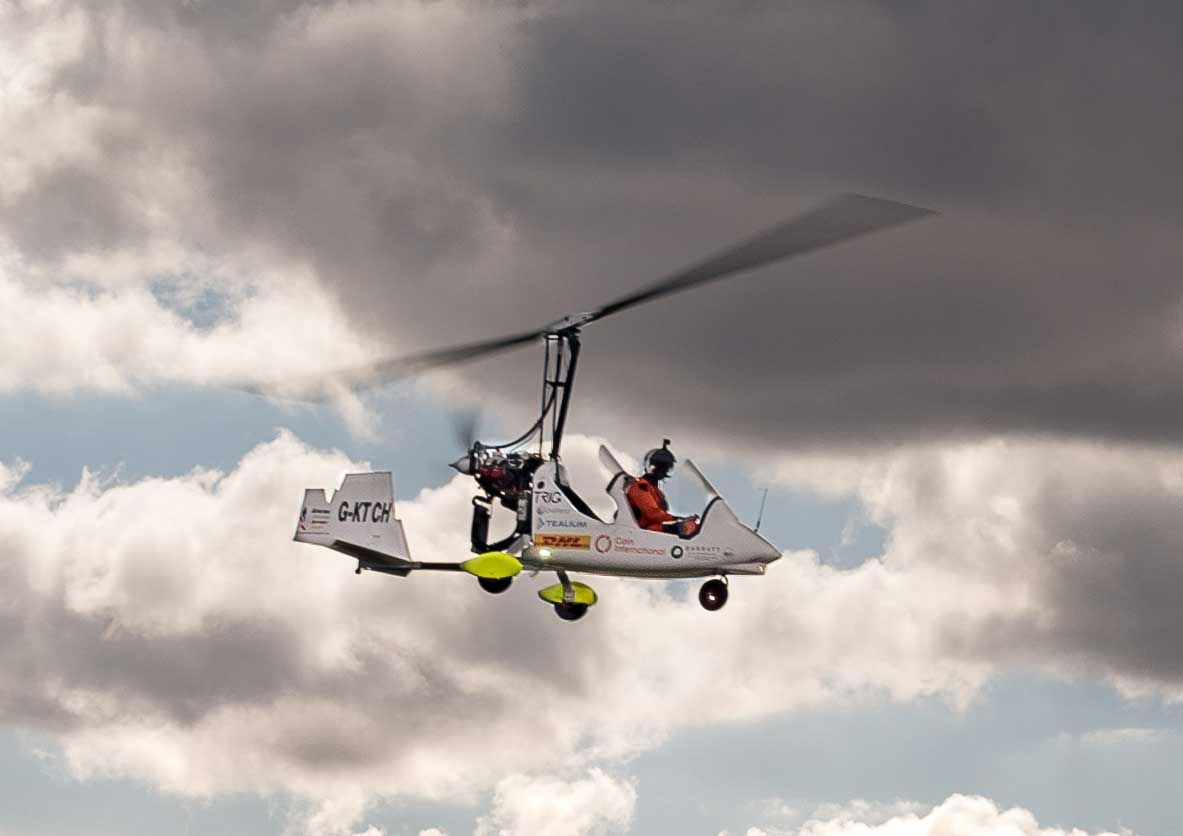 Sponsored by DHL, Barratt Developments and Cain International, Ketchell will need to cover the full 22,858.729 miles to make the world record according to regulations set out by the Federation Aeronautique Internationale, who govern all aviation records.
The gyrocopter travels at just 70 knots, with a range of just 700 nautical miles. Ketchell added: "The biggest challenge will be the unpredictable weather as the gyrocopter is open to the elements.
"One of the many advantages with flying a gyrocopter is that it's small enough to be able feel every movement whilst flying, just like feeling the boat and the way it moved when I rowed across the Atlantic."
Ketchell's flight can be tracked on his website.