If you're looking for a great summer read or the perfect gift for an aviator, a cracking choice is Seager Publishing's first-ever digital version of British aerospace icon John Farley's acclaimed, career-spanning autobiography, A View From the Hover.
John's career saw him become of one of the world's most respected test pilots, notably on the Harrier, and a leading authority on a very wide range of piloting and aviation issues.
A View From the Hover is full of insider knowledge, real-life flying stories and hard-won technical advice, plus (Apple iBook version only) exclusive introductory videos and vintage footage galore.
The Apple iBook edition includes exclusive videos
A View From The Hover takes you from John's beginnings as an engineering apprentice at Farnborough in 1950 through his lengthy career as an RAF test pilot and time as an instructor at the RAF College Cranwell to the period spent with the RAE Aerodynamics Research Flight (on the Short SC1 and Hawker P1127 prototype) and the nineteen years he served as Harrier Chief Test Pilot.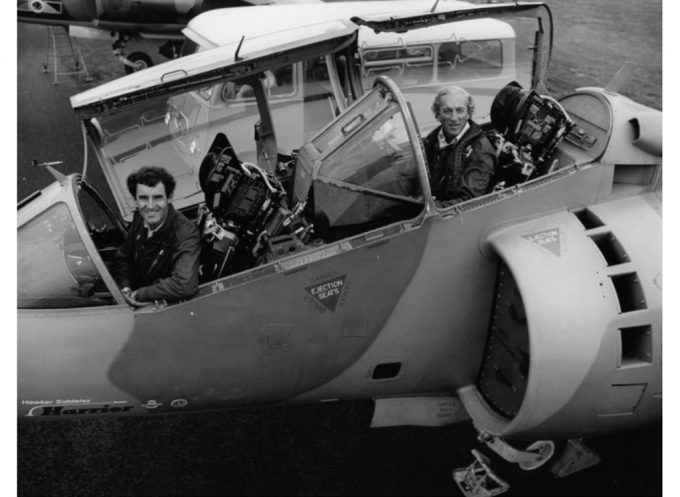 John Farley taking broadcaster Raymond Baxter for a ride in the Harrier, G-VTOL, at the Farnborough Airshow, 1974
After retiring in 1983, John spent another five years as a freelance test pilot, during which he added twenty types to the sixty different aircraft he'd already flown, and also performed at many major airshows around the globe.
Since then he's encouraged youngsters to enter the world of aviation. This book also features his thoughts about and explanations of a range of traditionally tricky subjects, from aerodynamics to the Private Pilot's Licence syllabus.
Whether you're just fascinated by an amazing, fifty-year period in British aviation history, want to know exactly how to fly a Harrier, or are earning your PPL, this is a must-read!
The digital third Edition of A View From the Hover is now available to download from Amazon for the Kindle reader, and to buy from Apple's iBooks store, in an enhanced version featuring exclusive introductory videos and vintage footage. The printed Second Edition is also still available to buy from Amazon.
Sample pages from the video-enhanced Apple iBooks edition: