British pilots are being encouraged to take part in the 2021 European General Aviation Survey, which launched this week and runs until 30 April.
The annual survey is being run by the General Aviation Manufacturers Association (GAMA) and the International Council of Aircraft Owner and Pilot Associations (IAOPA), with the support of the European Aviation Safety Agency (EASA).
The survey contributes to a better understanding of the trends in General Aviation flight activity and aircraft equipment, and fleet composition trends to support safety analysis in Europe.
Last year's survey was successful in gathering responses for more than 2,500 General Aviation aircraft from 40 European countries, despite the pandemic.
Its results are used by EASA in their Annual Safety Review to calculate accident rates for non-commercial aeroplanes as well as supporting regulatory impact assessments and promoting the benefits General Aviation brings to the European economy.
Kyle Martin, in charge of European Affairs at GAMA, said, "Now in its third edition, our aim for the 2021 European General Aviation Survey is to further increase participation across the general aviation community and better understand the impacts that the pandemic has had on GA operations across different countries.
"We are immensely grateful to the pilots and aircraft owners from all across Europe who take the time to share their flight hours and related data, as well as their views on the key issues facing our sector. This important information helps us focus our priorities to support the industry."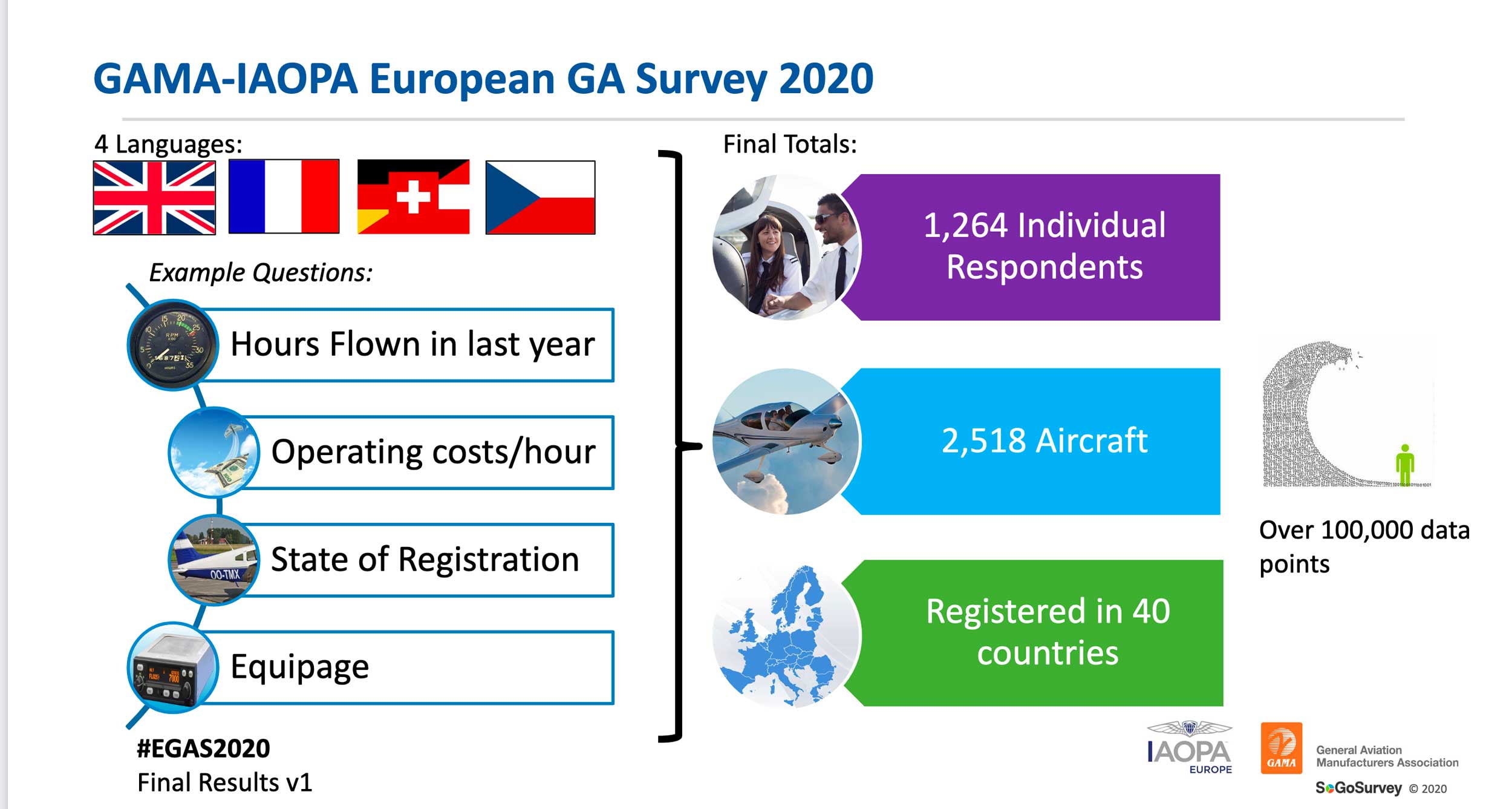 Click here to download a copy of the 2020 GA Survey results
Michael Erb, Senior Vice President of IAOPA, added, "Every GA pilot knows that it is not possible to navigate precisely and safely without reliable navigational data.
"The GA associations and aviation authorities are in a very similar situation.
"One can't provide targeted support for the industry without fundamental data about its situation, in terms of the number of flight hours, annual revenues, equipage of the aircraft and without knowledge about where the pilots and aircraft owners see problems.
"Therefore, especially in the challenging times of the COVID pandemic, it is important to participate again in this year's survey."
Click here to take part in the 2021 European General Aviation Survey