The Government has announced £84m is being invested in three projects to make aviation greener. Half of that total is coming through the govt's ATI programme with the rest matched by industry.
The three projects are:
GKN Aerospace-led project H2GEAR will receive a £27.2m government grant to develop an innovative liquid hydrogen propulsion system for regional air travel, which could be scaled up for larger aircraft and longer journeys
ZeroAvia's HyFlyer II will receive a £12.3m government grant to scale up its zero-emissions engines for demonstration on a 19-seater aircraft (this had already been announced)
InCEPTion, led by Blue Bear Systems Research, is receiving a £2.8m government grant to develop a fully-electrified zero-emissions propulsion system for aircraft, that is powerful, quiet and efficient and could be used for smaller aircraft travelling short distances – even within the same city.
Minister for Business, Paul Scully, said, "These trailblazing projects are broadening the horizons of future air travel, towards a greener future where we may be able to hail taxis from the sky rather than on our streets.
"This multi-million-pound boost will help to secure up to 4,750 jobs in these projects spanning the UK, and could pave the way to technological advances that will allow the industry to build back better and greener following the COVID-19 pandemic – and help tackle climate change.
"This investment comes ahead of our consultation on the Aviation Decarbonisation Strategy this year, set out as part of the Prime Minister's Ten Point Plan for a green industrial revolution, with jet zero and low carbon aviation as a key pillar to building back greener."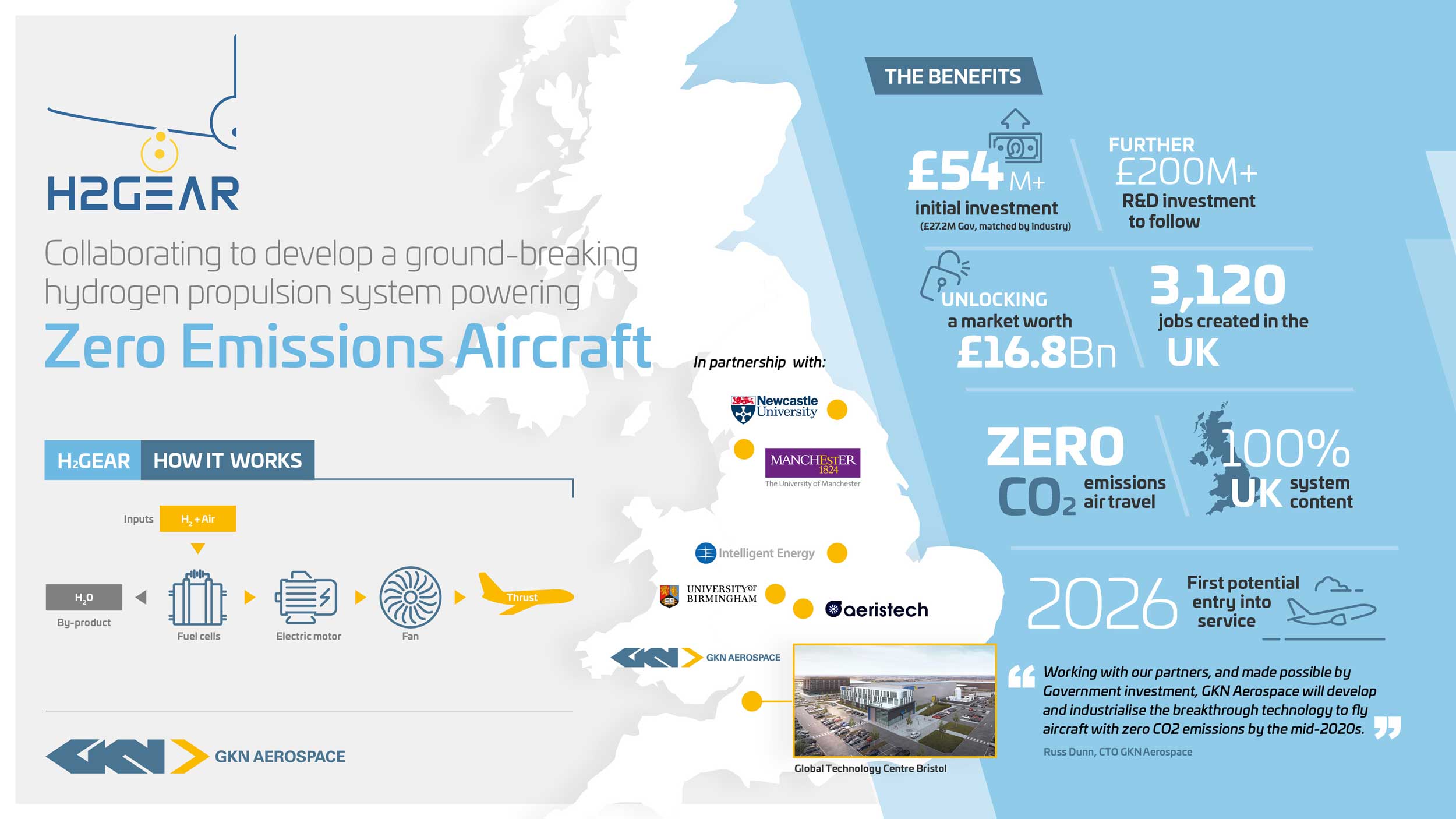 Britten-Norman Islander for Project HEART
In a separate but related announcement, a consortium of British SMEs and academics have announced the formation of Project HEART – Hydrogen-Electric & Automated Regional Transportation – as part of the Government's Future Flight Challenge.
The project will focus on transforming 9–19 passenger capacity aircraft and utilise up to 100 licensed General Aviation airfields around the UK. Each member of HEART will focus on combating a specific issue including cutting carbon emissions to zero, reducing costs to operators and passengers, expanding regional airports and increasing the frequency of services.
Britten-Norman will work with Blue Bear Systems to automate the Islander, the UK-built workhorse used in a variety of roles from passenger and cargo transport to medevac and search & rescue.
The project's first milestone will be to demonstrate single pilot operations with an autonomous co-pilot providing access to more information and assistance than human perception alone can provide.
Members of the project, led by UAV specialist Blue Bear Systems, include hydrogen-electric powertrain developers ZeroAvia and green hydrogen experts Protium, satellite communications authority Inmarsat, regional airline Loganair, regional airport group Highlands & Islands Airports Limited, award-winning architect firm Weston Williamson + Partners, global vehicle hire company Fleetondemand and Edinburgh Napier University.